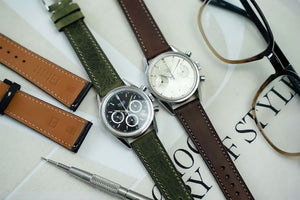 Leather Straps
---
Band & Bezel's Leather straps feature a simple, yet classic style that will look perfect when paired with a naturally aging vintage Submariner as an example. What makes our leather straps stand out, is that it develops natural patina which makes the strap age like fine wine. Despite the vintage and distressed look, these straps are meticulously hand sewn, are resistant to water splashes and are absolutely comfortable on the wrist.

Canadian Watch Straps Worn Around the World
At Band & Bezel, we take great pride in being a Canadian-based company that offers superior watch straps with unmatched quality. We know how important your time is, which is why we offer fast and free shipping within Canada. Our products are built to last, and we are so confident in their quality that we offer warranty on all our watch straps. We understand that finding the perfect watch strap is essential, and we are committed to making the process easy and hassle-free. Shop with confidence knowing that you are supporting a Canadian company that values quality and customer satisfaction above all else.
Canadian Company
Fast & Free Shipping
1 Year Warranty

Superior Quality
frequently asked questions
---
What sizes do your Leather Straps come in?
Our Leather Straps come in a range of sizes to fit different watch models. We currently offer the following sizes: 18mm, 20mm, 22mm
Why choose our Leather Straps ?
Band & Bezel offers meticulously crafted Leather Straps made with the finest materials sourced from the world's top tanneries. We believe every watch enthusiast deserves high-quality Leather Straps that complement their unique timepieces.
How do I Install my Leather Straps ?
Our Leather Straps are designed to be easily interchangeable. Take a look at the following guides on how to change your watch strap.
Do you offer any warranties or guarantees on your Leather Straps ?
Our warranty covers all manufacturer defects for the lifetime of all Leather Straps. it's important to note that the warranty does not cover normal wear and tear, which is the natural deterioration of the product over time.